Dr. Ronald U. Mendoza

Featured Researcher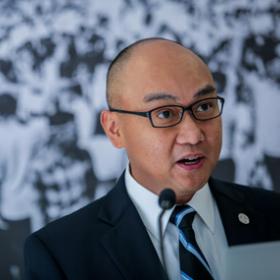 Dr. Ronald U. Mendoza is currently the dean of the Ateneo School of Government (ASOG). He holds a bachelor's degree in Economics from the Ateneo de Manila University, a Master of Arts (MA) in Public Administration and International Development from Harvard University, and an MA and Doctor of Philosophy in Economics from Fordham University.
Before his stint at ASOG, he was the executive director of the Asian Institute of Management (AIM) Policy Center from 2011 to 2016.
He has an extensive background in international development policy and international cooperation, with a resumé that includes working with the United Nations, Federal Reserve Bank of Boston, Economist Intelligence Unit, and several nongovernment organizations in the Philippines.
To check his publications in SERP-P, type "Mendoza, Ronald U." in the search box of the SERP-P website or click here.
Related Publications
[No related items]