Disaster Risk Management

Socioeconomic Issue on Spotlight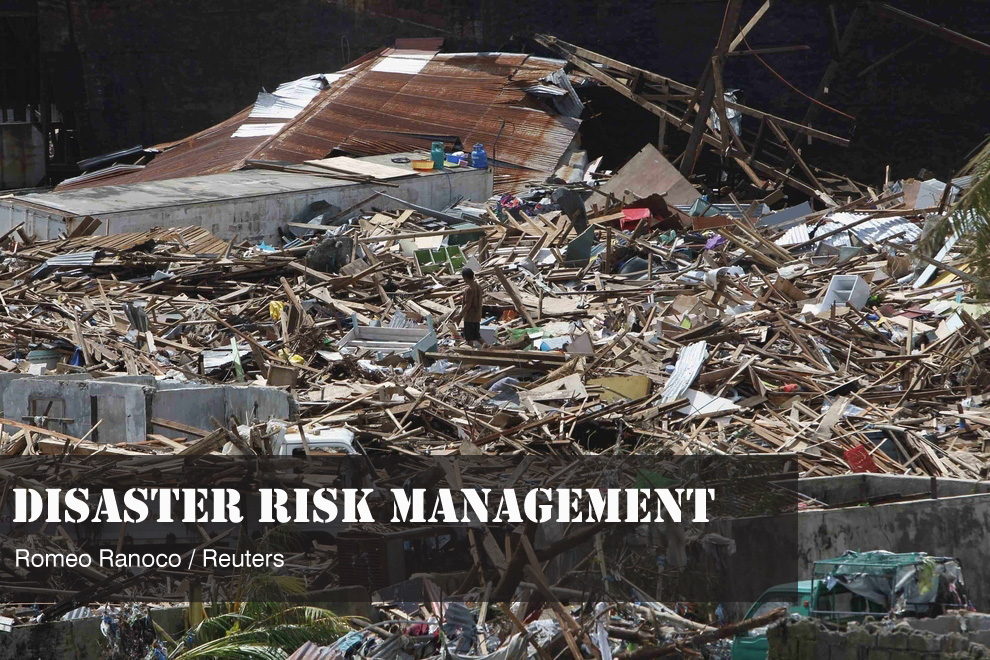 The Philippines is one of the most disaster-prone countries in the world. It sits in the Pacific Ring of Fire and thus highly susceptible to earthquakes. Given its geographical location, it is frequently visited by typhoons that build up in the Pacific Ocean. In the recent World Disasters Report released by the International Federation of Red Cross and Red Crescent Societies (IFRC), Philippines ranked third in the list of most hazard-prone countries in the world.
Just this November, a super typhoon–Yolanda (international name: Haiyan)–wreaked havoc on the Visayas region, making landfall five times with a significantly fatal impact. The combined forces of winds and storm surges wiped out many buildings, communities, and families in the area. Approximately 5.4 million people were reportedly affected by the storm which swept across 40 provinces. Many were killed; those who survived are at a loss on how to rebuild their lives that were taken away from them overnight. Tacloban was the center of the storm, making it the worst damaged city.
Disaster risk management is one of the most critical issues that the country is facing today. Over the years, the amount of rainfall and the intensity of storms have significantly increased. Experts predict that the worst is yet to come due to increasingly warming sea waters because of global warming. On top of natural disasters, certain parts of Mindanao in southern Philippines continue to confront issues of human insecurity due to unresolved armed conflicts. The terror attacks on Zamboanga City in August that lasted for weeks made many people homeless and children unable to attend school, and forced many people to live in evacuation centers.
Disaster preparedness is an important strategy to mitigate the potential negative impacts of natural disasters as well as human-made catastrophes. Mitigation and adaptation measures are necessary to build the resilience of high-risk communities. This Spotlight features the studies conducted by SERP-P member-institutions on disaster risk management that can serve as references for program planning, policymaking, and further research.