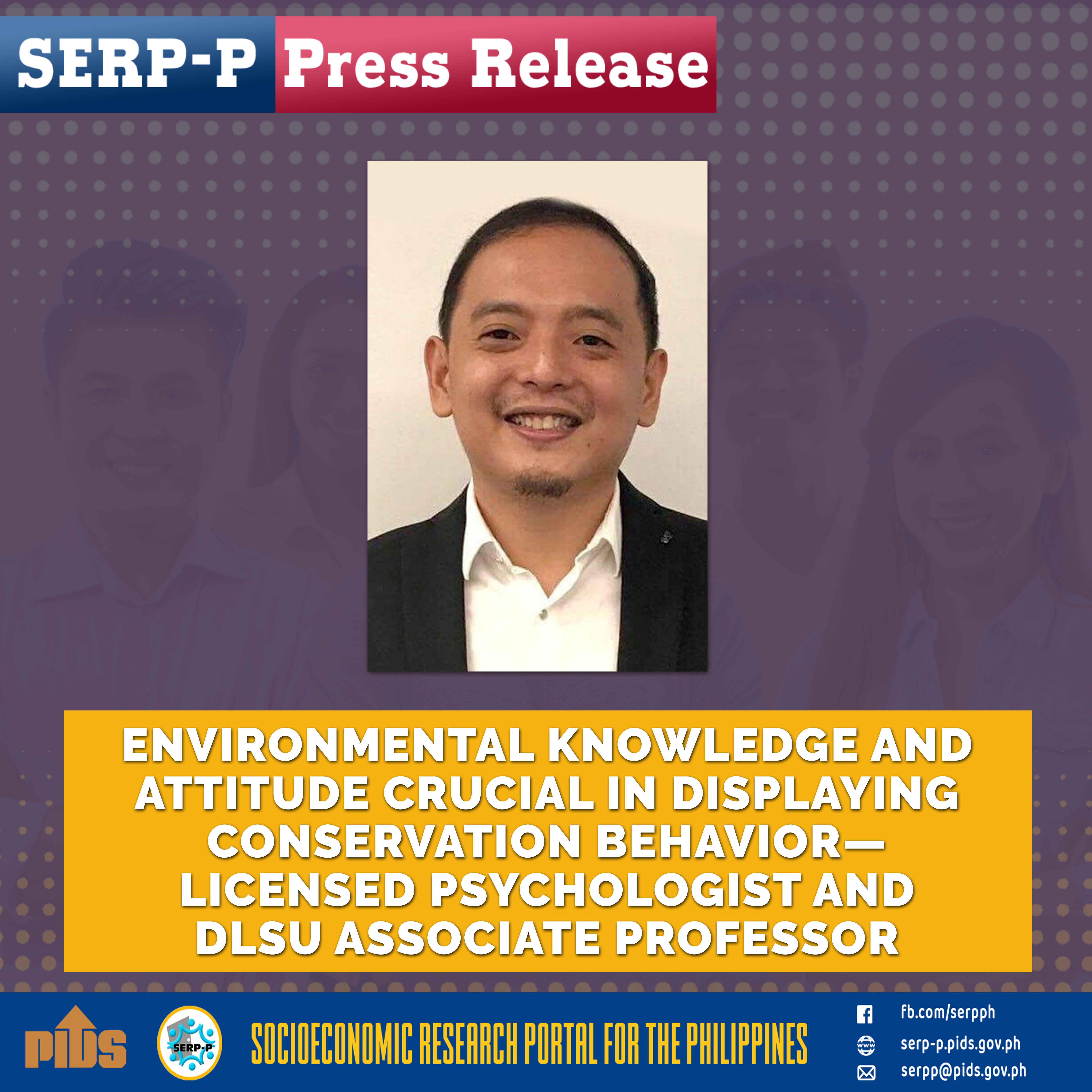 Knowledge and a positive attitude toward the environment are both crucial in displaying conservation behavior.
Dr. Homer Yabut, a licensed psychologist and associate professor at the Department of Psychology of De La Salle University-Manila, emphasized this at a knowledge-sharing webinar recently organized by the Philippine Institute for Development Studies (PIDS) through its Socioeconomic Research Portal for the Philippines (SERP-P) project. The forum themed "Capacitating and Investing in the Youth for a Productive and Resilient Future" featured studies of some SERP-P partner-institutions. It is the second installment of the SERP-P knowledge-sharing webinar series.
Yabut, who presented a paper he coauthored with Anne Claire Simpao on the conservation behavior of college students in Metro Manila, explained that pro-environmental behavior, which includes conservation behavior, refers to "actions of individuals and communities that aim to benefit and ease the harm to the natural environment".
"Specifically, when we talk about conservation behavior, it refers to the public's willingness to recycle or live a lifestyle with a smaller environmental impact. It primarily focuses on key issues such as energy, water, and forest conservation," he said.
The study found that female university students aged 27 and above, undergraduate, in their fifth year or higher, with a family income of PHP 20,000 and below, have the highest engagement in conservation behavior.
Some of the possible reasons for these results are because females are more inclined to demonstrate greater affinity and support for the environment; older students support themselves and their families, thus, have limited use of necessities and other spending; and college students have more positive attitudes toward the environment.
The study also found that environmental knowledge significantly affects conservation behavior.
"A high level of environmental knowledge suggests a high engagement level in conservation behavior. But attitude is also an important factor. Attitude can predict the intention of doing something," he explained.
Yabut said that "even if one has knowledge [of conservation], if the person's attitude toward conservation is low, it will not translate to conservation behaviors."
Nevertheless, he clarified that knowledge is still important. "Knowledge is crucial in shaping attitudes and, more importantly, values; hence, we should start early."
A change in the attitudes of individuals is vital to address environmental concerns. Schools and universities can help the youth in shaping their attitude toward conservation behavior.
"Knowledge is a two-way street. Educational institutions should focus more on environmental topics that are action-oriented and promote sustainable practices. However, transmissive knowledge is not enough. There should also be other activities because social norms shape attitudes," said Yabut.
He added that universities should not only teach about conservation behavior but also perform practices and impose regulations that will help students look positively at conservation behavior.
For their part, students should make an effort to be knowledgeable of environmental matters inside and outside their campuses.