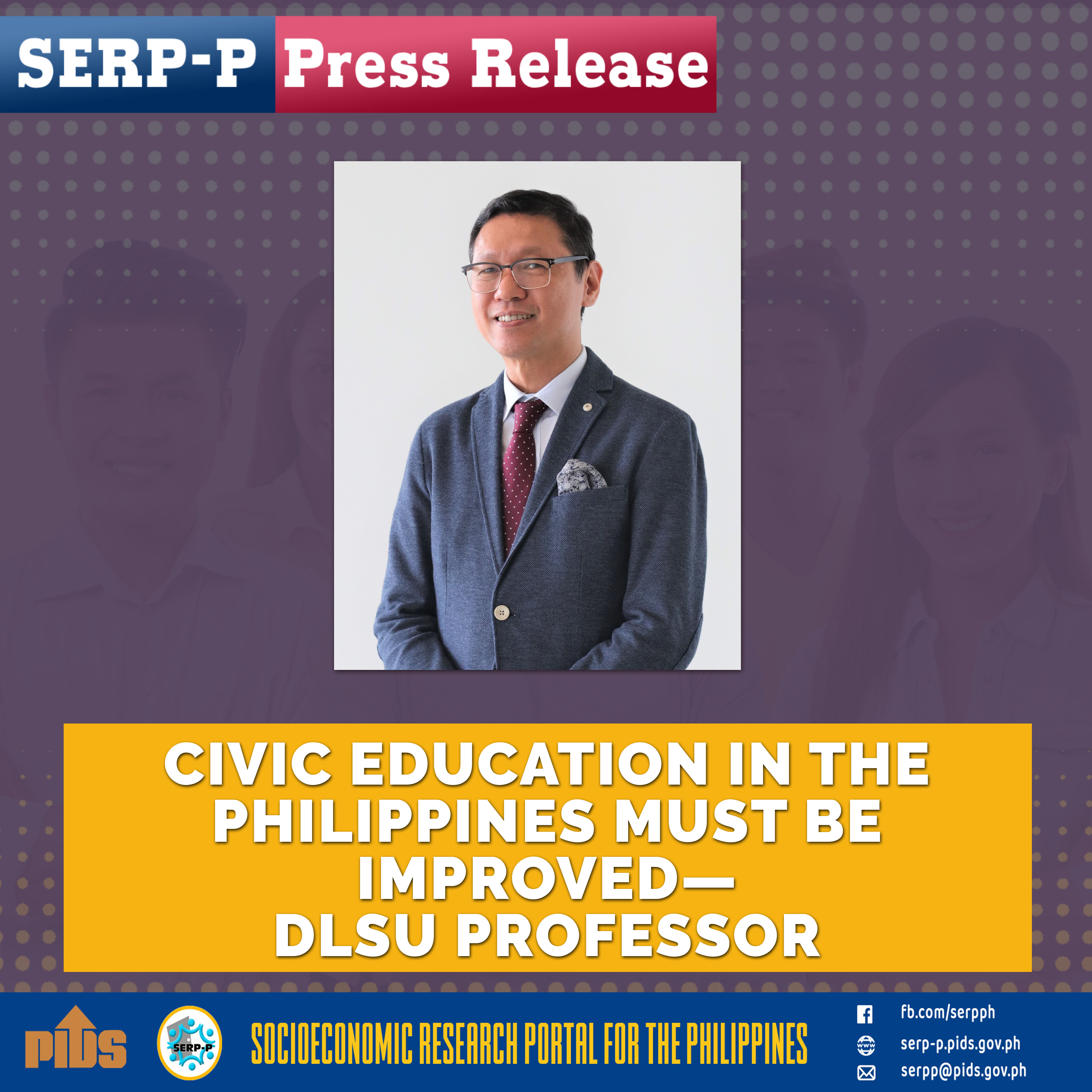 There is a need to improve civic education in the K-12 curriculum.
This was emphasized by De La Salle University-Department of Political Science and Development Studies Professor Francisco Magno during a knowledge-sharing forum on the theme "Capacitating and Investing in the Youth for a Productive and Resilient Future" organized by the Philippine Institute for Development Studies (PIDS) through its Socioeconomic Research Portal for the Philippines (SERP-P) initiative.
Magno presented the Youth Leadership for Democracy (YouthLed) project's preliminary review of civic education for the youth. The study assessed the civic education curriculum of Philippine private schools and the nonformal education programs of nongovernment organizations (NGOs). YouthLed is funded by The Asia Foundation and the United States Agency for International Development.
Gaps were found in the content and delivery of civic education programs.
Looking at the different civic education modules in the junior high school (JHS) curriculum, Magno observed that they have modified content areas, such as civic engagement models, integrated Christian perspective, community engagement framework, links to the Sustainable Development Goals, and the inclusion of human rights. Diverse approaches, such as case study, practical research, simulation, spoken word poetry, and role-playing, are used in the curricular modules. However, some schools have no co-curricular activities or those that fall outside the academic curriculum but are considered essential for learning and development.
In the senior high school (SHS) curriculum, Magno emphasized the lack of extensive civic education. There are eight subtopics on civic education, but the core subject, "Understanding Culture, Society and Politics", only covers eight hours. Moreover, there is more discussion of culture and society and less on citizenship.
"If the SHS students do not go to the Humanities and Social Sciences strand, this would be their last exposure to civic education," Magno said, adding that it would help if civic engagement [subjects] could be added to all SHS strands.
Other gaps found were the differing module contents that veer away from civic education. Some teacher respondents also related their struggles in preparing materials and modules and developing the curriculum.
To address the identified gaps, Magno recommended developing co-curricular modules and training manuals for JHS ad SHS and capacitating teachers and facilitators through training. He also recommended building strong partnerships between schools and NGOs in the delivery of civic education programs.
You may watch the forum at https://www.youtube.com/watch?v=bkyPcT_bMVc